Rooted in simplicity and purity of design
Bopbe (bop·bei) uses natural gemstones and shells to create small batch and one of a kind pieces. Inspired by the unique textures and colors of the stones themselves, we handpick materials we love, and make pieces you'll love to wear.
Designed and handmade in the USA
Made to be comfortably lived in and effortlessly styled, each piece is thoughtfully designed and proudly handcrafted at our studio in Palm Beach Gardens, Florida.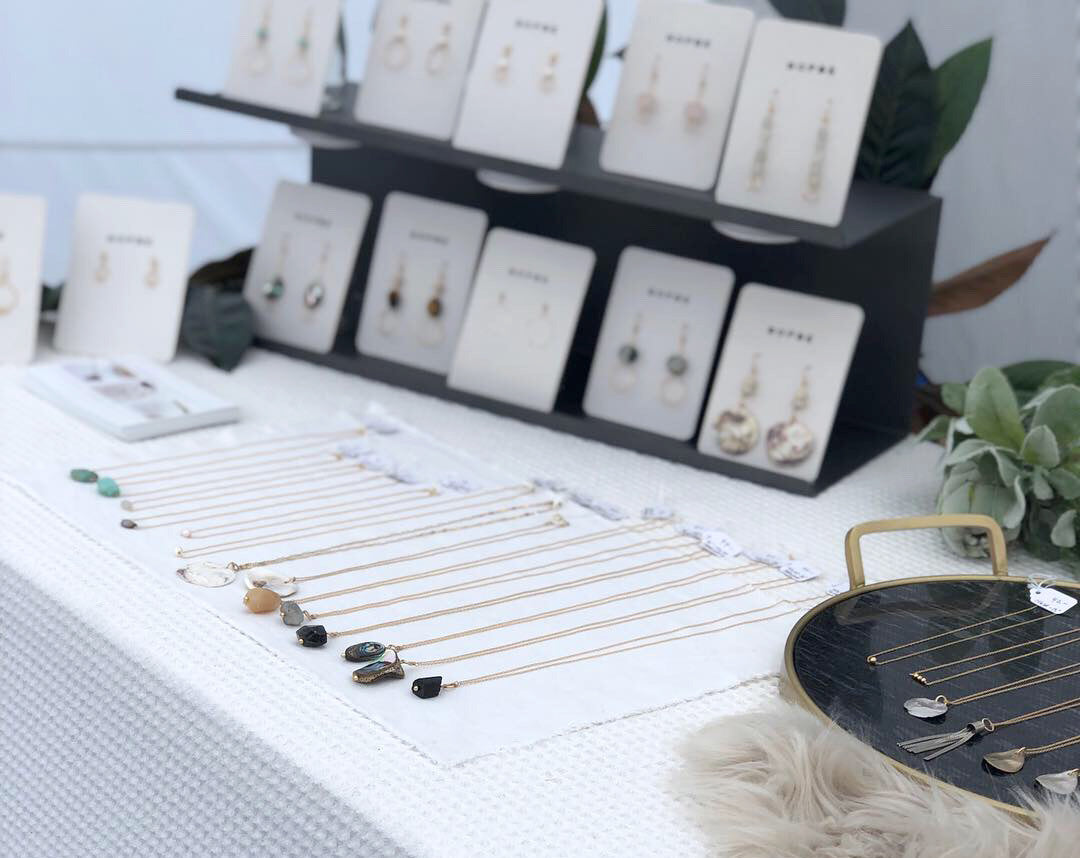 Festivals + Pop Ups
We set up shop at festivals and markets throughout the year and love the personal connections we are able to make with our customers.
Check our schedule below, and find us at an art festival or pop-up market for an in person shopping experience.
Fall - 2023
Find us in person - Festival + Pop Up Schedule
* Updated as dates are confirmed
Aug 4-6 - Uptown Art Fair - Minneapolis, MN
Aug 11-13 - Milford Memories Summer Festival - Milford, MI
Aug 25-27 - Crafts on the River - Savannah, GA
Sept 7-10 - Yellow Daisy Festival - Stone Mountain Park, GA
Sept 16+17 - Punta Gorda Sullivan Street Craft Festival - Punta Gorda, FL
Sept 29-Oct 1 - Virginia Beach Neptune Festival - Virginia Beach, VA
Oct 7+8 - Wilmington Riverfest - Wilmington, NC
Oct 28+29 - Mount Dora Craft Fair - Mount Dora, FL
Nov 4+5 - Peter Anderson Arts & Crafts Festival - Ocean Springs, MS
Nov 11+12 - Juno Beach Craft Festival on the Ocean - Juno Beach, FL
Nov 18+19 - Downtown Festival + Art Show - Gainesville, FL
Nov 24-26 - Crafts on the River - Savannah, GA
Dec 1-3 - Armory Holiday Arts Festival - Armory Art Center, West Palm Beach, FL
Dec 9+10 - Boca Holiday Festival - Mizner Park Amphitheater, Boca Raton, FL
Vendor:

Regular price

Sale price

$26.00 USD

Unit price

per

Vendor:

Regular price

From $20.00 USD

Regular price

Sale price

From $20.00 USD

Unit price

per

Vendor:

Regular price

Sale price

$32.00 USD

Unit price

per